FROM COOKING TO CARVING
AND EVERYTHING IN BETWEEN
by Martha Buttress | 01 . 04 . 21
"Wine is the intellectual part of a meal
while meat is the material." - A.D

Guests are seated and drinks are flowing. Heads turn towards the table centrepiece (the chopping / presentation board). Hours of work spent slaving away in the kitchen, sweat beads dripping down your forehead, pulse racing… pressure is on, you can't mess this up now! Sound familiar?
Carving meat is an art. The skills behind it take time to develop and need some attention. Well, you'll be pleased to know that MR. WILDE has come to save the day with these ESSENTIAL TIPS AND TRICKS…
STEP 1. ON YOUR MARKS - GET SET .... REST!

Night Tales, Street Food Market
DO NOT carve meat straight after it is removed from the oven / pan - meat will be firm and juices are wasted as they pour straight out. Let the meat rest by wrapping it in foil / brown paper for at least 15% of the duration you cooked it (this rule applies to all meats and fish, if the meat squeaks as it is being carved, it is a sign that it hasn't been rested enough).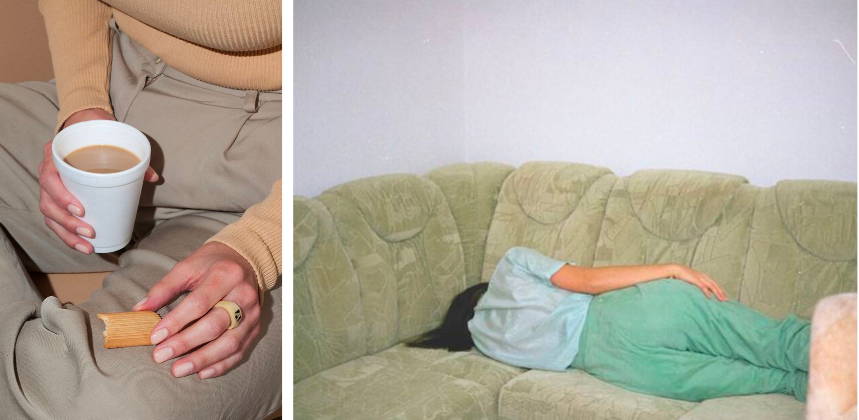 Pictured: (Left) Wardrobe Snacks — Kelsey McClellan, (Middle) Jasmine de Porta

Meanwhile, your meat will continue cooking whilst resting (known as "carry-over"). Chefs will generally cook their meat a little rarer than desired, so that "doneness" can be achieved during the resting process. N.B. Allowing meat to rest, equalises temperature throughout, whilst juices are retained and evenly distributed, overall making the joint much easier to carve.
Winner winner, let's just skip to dinner.
STEP 2. FEELING HOT HOT HOT


Photography by Maria Svarbova
To guarantee your meat is cooked to the perfect "doneness" (and confirm certain meats are safe to eat), then a meat thermometer (probe) will become your new best friend: BBC Good Food has reviewed their top 5 here.
Depending on how you would like to serve it, these are the temperatures required for each meat:
STEAK / BEEF
Rare: 120 F - 125 F (48.9 C to 51.6 C)
Medium-rare: 130 F - 135 F (54.4 C to 57.2 C)
Medium: 140 F - 145 F (60 C to 62.8 C)
Medium-well: 150 F - 155 F (65.5 C to 68.3 C)
Well done: 160 F (71.1 C) and above
LAMB
Rare: 135 F (57.2 C)
Medium-rare: 140 F - 150 F (60 C to 65.5 C)
Medium: 160 (71.1 C)
Well done: 165 (73.9 C) and above
POULTRY
Chicken: 165 F - 175 F (73.9 C to 80 C)
However, no probe no problem! Identifying if your grilled meat is raw, rare, medium rare, medium, or well done can be a tricky business. To simplify things, look no further than the palm of your hand!

STEP 3. INVEST IN ALL THE GEAR

Items pictured listed below.
1. Never underestimate the importance of investing in a good quality knife (ideally a carving knife). It'll quickly climb it's way to the top of your most-used items list. Look for a stainless steel variety to keep away rust like one of these 'first all round knives' from Kitchen Provisions.
2. Make sure your knife is sharp so you can carve with perfect precision, and avoid wasting all those utterly scrumptious flavours! We recommend using a pull-through knife sharpener - AnySharp has a great collection.
3. Honing your blade is another important practice (daily routine for many chefs): when we cut through meat onto a chopping board, we usually bring the knife back up at a slightly different angle, causing the blade to misalign slightly. Snap up ProCook's honing steel in order to keep these edges straight.
4. Set up your work surface - carving is much easier when everything is kept nice and steady. *TOP TIP* fold a damp cloth and put it underneath your board to keep everything stable.
- Medium / Medium rare joints: invest in a proper carving board - raised wooden points hold the meat securely, whilst the deep juice channels feed a well-sized reservoir. When you're ready to pour off the juices, there's a neatly-carved spout to make the task as easy as possible.
- Well-done joint: a regular chopping board like this from M&S or Horwoods is fine.
When it comes to cleaning, scrub your board with coarse salt and massage with half a lemon to get rid of food particles and food smells. If you've splashed out you might want to pamper it, once a month, with food-grade mineral oil.
STEP 4. NAIL THE PROCESS
RELAX INTO IT || Performance is always best when you're relaxed (applies to the kitchen as well). Try not to clench the knife but use a light grip.

MR. W's Butter and Rosemary Corn Fed Roast Chicken
CARVE AGAINST GRAIN || Now your meat is relaxed, the other important thing to do is carve it correctly, even the finest quality meat that has been cooked perfectly and rested can still be ruined during the carving process... SO, what is 'the grain'? Fibres within your meat. Just like a bunch of spaghetti, you want to cut this down to end up with smaller pieces. Using this process will retain moisture to give you juicy, more tender meat, easier for your teeth to chew. Use a long slicing motion and let the knife do the work. Try to glide your way through each slice in one or two motions to avoid shredding the meat.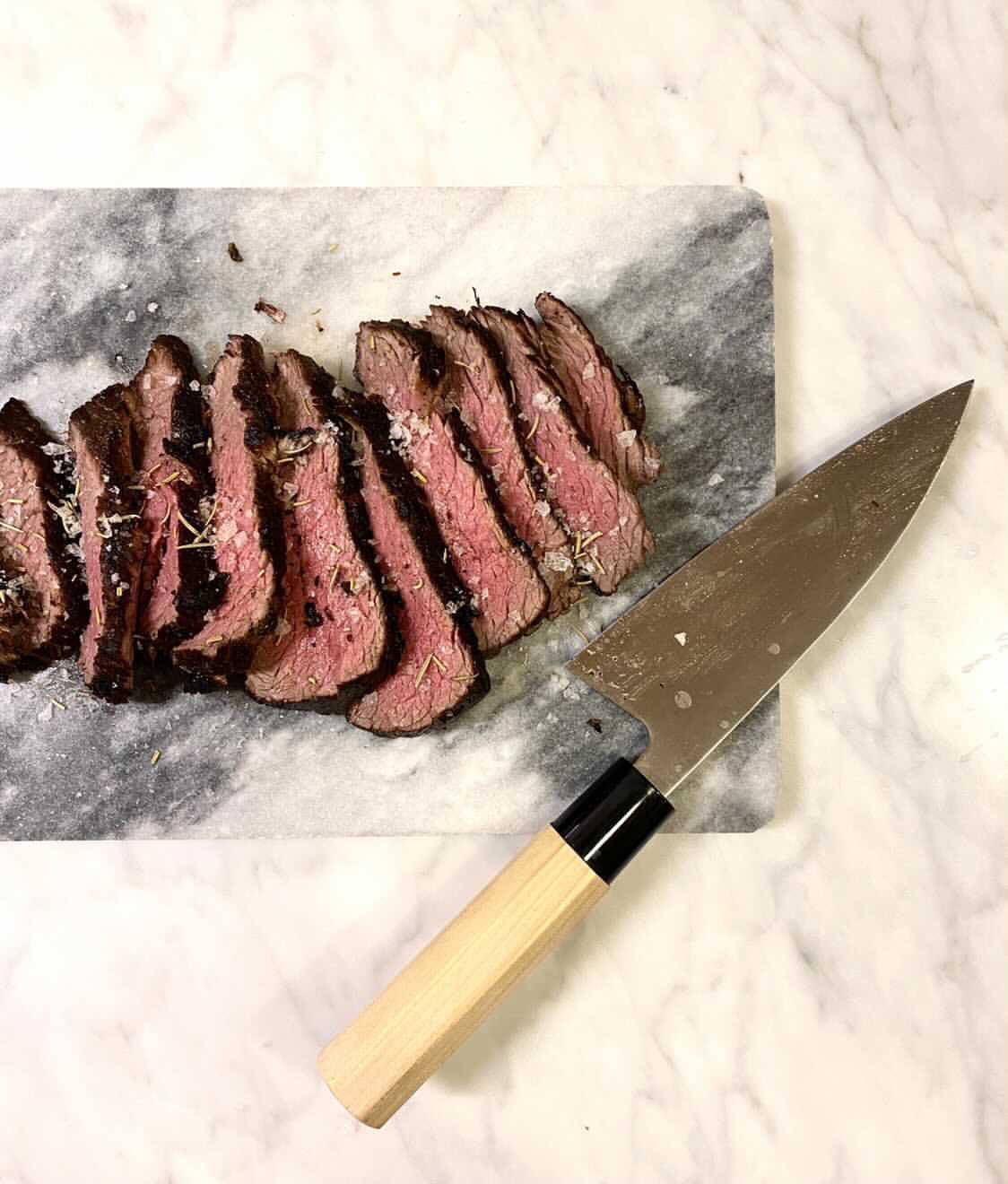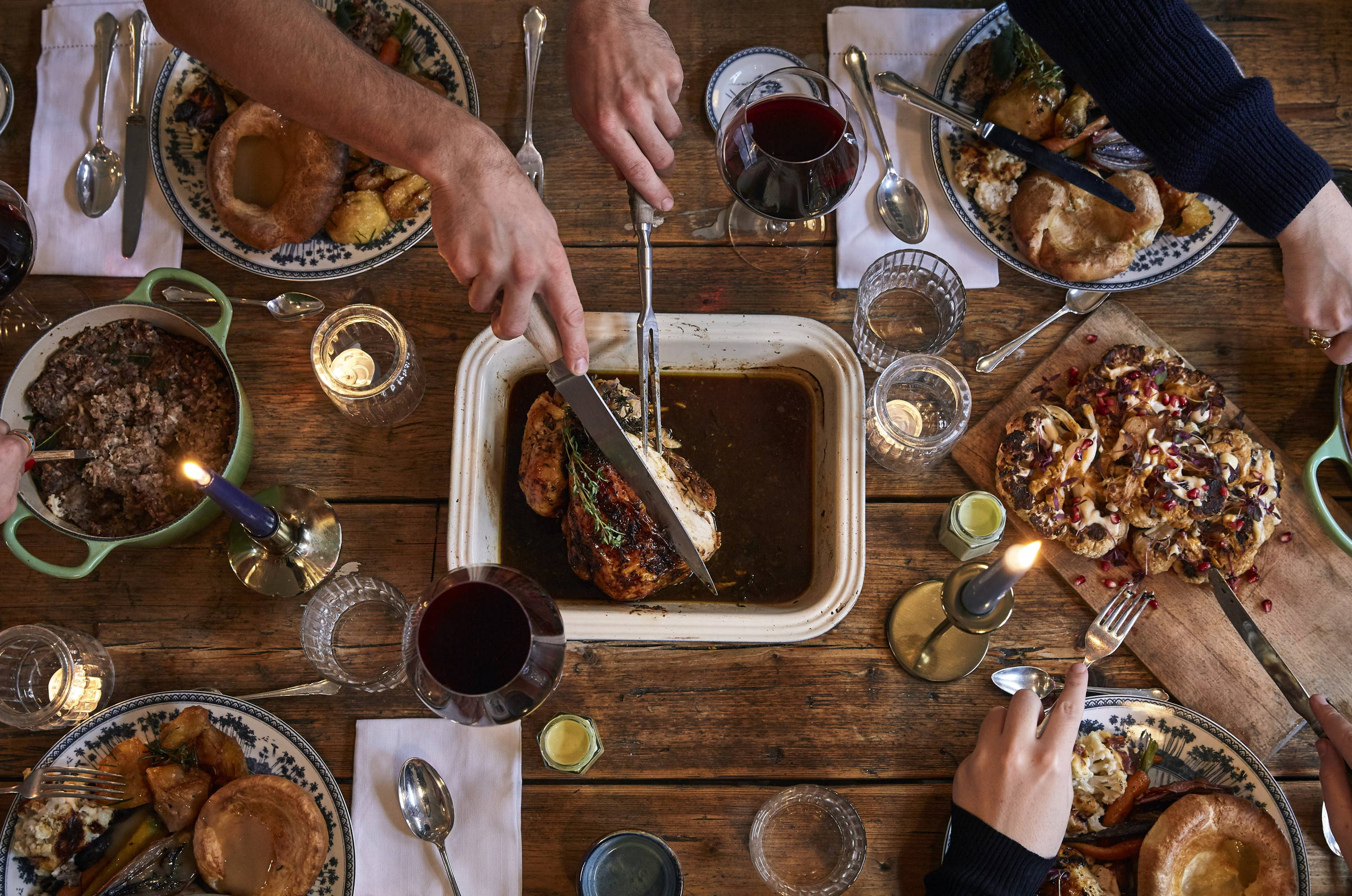 PICTURED: MR. W's Butter and Rosemary Corn Fed Roast Chicken
Photography @jenbalcome | Styling @byleilagodfrey and @cloedlv