MR. WILDE is the latest concept from cult restaurant favourite WALTER AND MONTY.
We're passionate about the whole dining experience; from great food to good vibes, and believe that everyone should be able to enjoy a meal the way it is supposed to be eaten. Steaks should be juicy, chicken should be tender, salmon should melt in your mouth. But we know cooking isn't foolproof and often when cooking under pressure things can go awry. Whether cooking for 2 or hosting for 10, we believe you should enjoy your time with your guests - slaving away in the kitchen isn't going to win anyone host of the year.
The concept was born following many dinner parties at home where food took 5 hours to cook but all of 5 minutes to eat. We wanted to create something that combined some of the best bits of eating at a restaurant - perfectly cooked food and no tidying up - with the best bits of entertaining at home.
And so MR. WILDE was born; a concept that means your home dining experience is foolproof -
even the most complicated or arduous culinary challenges take 15 minutes.
NO WASTE . NO FUSS . NO MESS.
You can thank us later!
From complete beginner to experienced chef; whatever your skills in the kitchen, if you love hosting you'll love this.
From the main event (top quality meat, fish or veg) through to our delicious sides and sauces, your meal has been prepped and cooked by our top chefs, leaving you to simply finish the job in the pan, under the grill,
oven or on the BBQ.
Dinner parties, barbecues, Sunday roasts or a cosy date night for two - now you can enjoy foolproof fine dining at home in under 15 minutes.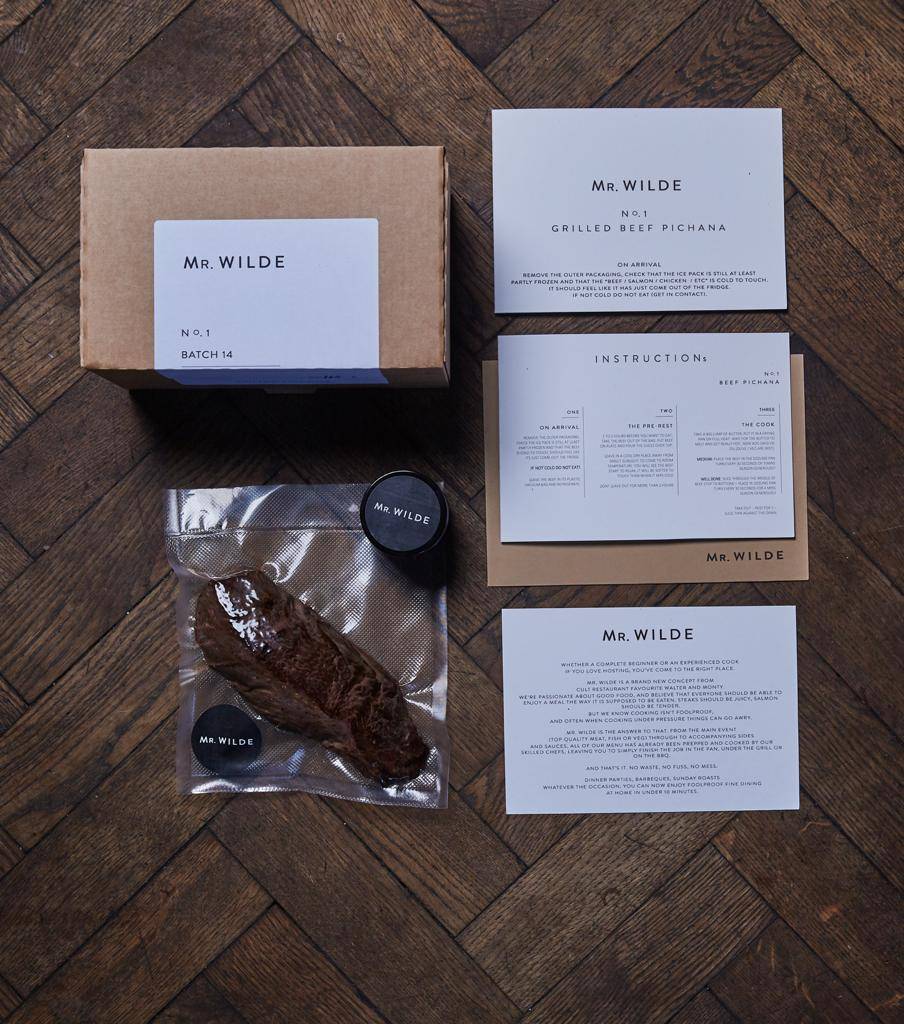 1.

Place your order on our website. Please note our delivery schedule here.
Choose from a selection of mains, sides and sauces or select one of our Chef's Table boxes which is a full meal of mains, sides and sauces.
2.
Once we receive your order we'll get cooking! We buy our ingredients locally at Smithfield Market and cook on-site in our restaurant kitchen.
3.
We'll deliver straight to your chosen address on a nominated date, depending on availability (minimum 4 days from date of order).
4.
Follow the simple instructions on the packaging to cook your meal, or use the cook-a-long video on product page - everything is ready in under 15 minutes.
And that's it - it's incredibly easy. Visit our Q + A section for more details or get in touch with us - we'd love to hear from you!
WHAT THEY SAY
ABOUT US...
"Absolutely exceptional food. I've never had an 'at home' meal like it, genuinely felt like I was eating top restaurant food. So far we've had the steak, beef short rib and the lamb and all have been succulent, full of delicious flavour and cooked to perfection. The portion sizes are really generous on both the mains and the sides. Everything is packed and presented so nicely which makes it feel extra luxe and special."

"The packaging was well thought out and so stylish ...The food was the hero, sensational. A groundbreaking way to make me look like a great cook and unflustered host! Will 100% be re-ordering. Going to go for the tandoori next time. So, so easy. BRAVO MR WILDE!!!"

"What a lifesaver. So simple to cook, flavours were phenomenal. Packaging was beautiful.
I'll definitely use again for every dinner party I ever have. Very impressive food and worth every penny"

"Making my lockdown bearable ... so easy to cook and so tasty. arrives in amazing packaging too, huge step up from my current subscription. I had the steak box, perfect medium rare steak - game changer!!"

"Ordered the beef, roast potatoes and red wine gravy for my daughter and her partner as a Friday night treat. They reported that it was very tasty and portion size was very generous."

"Who needs to go out to eat when you can have top quality food delivered to your door. I'm certainly no chef but it was so easy to do snd so delicious I've awarded myself one star! Thank you so much"

"Highly recommend!! What a lock-down date night treat! The steak chefs table meal was divine (and easy to make)!!! I haven't ever managed to prepare such beautifully pink meat at home before! The spinach and chips were amazing. Can't wait to try the other dishes! Ps. Make sure you get the rosemary butter - yum!"

"We ordered the Indian banquet and it was absolutely delicious - amazing quality meat and great sides! Easy to prepare at home and made a very special and memorable evening. Would fully recommend!!"

"Packaging/presentation make you feel like you are getting a really special product before you even get to the food. Added touch of adorable little jars of sauces to accompany the food were a great touch.
Ordered the "Tokyo Nights Box" as a birthday meal (lockdown preventing us eating out) and it was easy to prepare, instructions were very clear, most importantly the food was delicious. Portion sizes were really generous also. I'd highly recommend and will be using again myself."

"No mess. No fuss. Great food. Does exactly what it says on the tin! Amazing food, couldn't recommend more. Would recommend the salmon 10/10."

"First time we've ever ordered a home meal kit and we were blown away.
Delivery on time, food tastes great and easy to cook whilst the packaging made it feel a real treat.
2nd order already in!"

"We really enjoyed our Mr Wilde salt beef meal. The food itself was delicious and the quality and flavour of the meat was fantastic. It really melted in your mouth! Everything around the meal was also great: ordering and delivery is simple and well managed, preparation is easy with straightforward, no-fuss instructions, and the packaging and presentation very stylish. Would highly recommend. A class act!"

"Restaurant quality and super tasty! I ordered the Beef Picanha and it was utterly delicious. Perfect for when you want to impress for a special occasion and have that 'dine out' experience during such restricting times. Minimal effort and great taste, would highly recommend."

"Make no mistake, this is not just any old ordinary takeaway food. You get top quality restaurant style food at a reasonable price, with good portions and minimal effort. We have had the Indian Lamb with various sides and sourdough as well as the Salmon box. Everything was delicious.
Ordering is easy, packaging, delivery and instructions are great. We have only bought for ourselves so far but would happily order for guests as well."